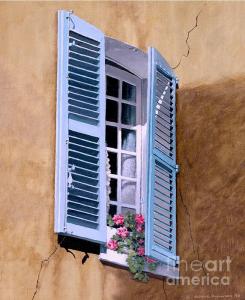 Of all the French Riviera's villages, St Tropez is one of my favorite. Everywhere I turned was a potential painting, from the colorful fishing boats doting the harbor to the outdoor bistro tables waiting for customers in the many alleyways, life seemed nothing but laid back. Atelier Sei was an art gallery amongst many I checked out and ended up buying a piece to take home as a souvenir . Close by is the main Sycamore shaded square, as most in this region it has its Bole Ball addicts who will stop at nothing to compete on these dusty tanned clay courts while awning covered diners watch from nearby cafes.
Across from the square is the local Museum / Public Art Gallery which hosts revolving local shows along with the region's history highlights which we found quite interesting. Stepping out of the Museum we ran smack into a parade in progress, celebrating some historical event. All including children, where dressed in colorful period customs with large brimmed straw hats. After buying some take out sandwiches at a local shop we wandered to a small alcove beach area just behind the public pier (still wanting to be near a washroom LOL) where we sat down amongst some lively (yes topless) summer school students enjoying their lunch hour break, swimming and playing Frisbee.

Asking if this was the only beach, a student gestured toward the south saying that there was a larger beach area in that direction but one needed a car to get there. After meandering through more of St. Tropeze's quaint streets our daughters voted to go there so we headed out along a small bogenvilea lined road which opened up to a very long beach. The sun was high and intense, shining down on a very large and dusty parking area, it took us a while to find a spot but one could see an inviting and magnificent azure / turquoise sea just beyond the beach. Trekking through the white hot sand between bamboo fenced outdoor restaurants we finally reached the open beach. As we walked along the water's edge looking for a good spot to set up our umbrella our youngest pulled my arm down to whisper earnestly into my ear "they're all naked here". It turns out that the private bamboo walled areas can be rented by those who enjoy that lifestyle, thereby beating the public beaches Le Minimum rule. At any rate, the day turned out to be a perfect summer's day, a warm gentle breeze, warm clear water and the ever present Super Yachts on the horizon, it's a memory I wall cherish during our Canadian winters.

After enjoying this paradise like day, we knew that all good things must come to an end. While the large orange sun slowly sank into the Mediterranean, it dawned on us that it was still quite a ride home, so we packed up and trekked back to our now almost lonely little Renault in the parking lot. By the time we reached the open bay area road with St. Maxime at its end it was totally dark. What I had forgotten about was the hairy cliff side road we now had to take in total darkness.

Earlier I thought I knew fear but this time I was almost petrified, one could not see the cliff's edge and this time we where in the right lane, separated only by what looked like a 3 inch stone curb from certain death over that 1000 ft cliff.
Then I saw them, Headlights, coming straight at us. To this day I will never know how two cars could pass safely on a 20 ft wide road in total darkness. I know I had my eyes closed and to make things worse, I again had to find a restroom as soon as possible.

I mentioned before, using a French Public Restroom room is a unique experience. Earlier in St Tropez my wife came back out of the rest room wide eyed saying the there is no toilet just a hole in the floor with two brass foot plates in front of it !

My experience differed little in the men's side, except that between front door and the hole sat a stern looking matron at a table handing out toilet paper for a few francs. In retrospect I guess it's a model of efficient public / private partnership, the city supplies the infrastructure and for a small fee, private enterprise keeps it clean and tidy.
After enduring the Tartar experience, I now consider myself somewhat of a French Restroom expert from St. Tropez to all the way Monte Carlo, it taught me which ones where run well and which where just holes in the ground.

The upcoming weekend promised more of the same,Sunny and Warm, we wanted to do something different. I noticed an ad for Venicia or Venice, Italy, checking the distance I realized that it was possible to drive there in about one day so Thursday night we packed for the trip. Heading east we took the expressway which runs above the local roads bypassing Monaco and Menton, to the Italian border. Most of the Riviera area was once In Italian hands which explains why a lot of the larger buildings have some pretty ornate plasterwork compared to most of the French inland villages which are made from stone and mortar, the Italians are masters in the art of plastering stuff, even many of the Roman columns that Italy is known for are actually brick with a plaster overlay making them look like cut marble.

We neared the Italian border and scrambled to find our passports, each time we looked around for them the lights suddenly went out as we drove into one of the long mountain tunnels and then immediately over a long bridge spanning the often very deep valley as we exited into daylight again. Building these highways must have been a hell of a job for there were quite a few areas like that.
At the border ( which was before the European Union), we where approached by a uniformed guard who in Italian asked us something which none of us could figure out. The only thing I could think to say was that we where Canadians going to Venicia for the weekend in English.
I could make out the word Canada in the Italian's answer and immediately afterwards were waved on through. Not sure if he meant us to go to the customs building I started to show him my passport but he kept waving us on while my wife tried to get him to stamp her passport to show we had been in Italy which also proved futile.
So now we where suddenly in Italy feeling like world travelers. Except for the Italian language traffic signs everything felt the same, more tunnels with high level bridges but in general a very good road. As we neared Genoa traffic picked up noticeably and a lot more signs to decipher, I took the ones with arrows pointing north and suddenly there was the word "Venicia" right under "Milano". After a while the mountainous landscape changed to more level land as we entered one of the best 6 lane divided highways I had ever seen, straight as an arrow with a speed limit of 130 km which no one seem to take serious. The actual speed limit was whatever your car could get up to which left us mostly in the right lanes as even downhill with a good wind at our backs the little Renault was good for about 105 km.
Being passed by Mercedes, BMW's and a few Lamborginis streaking by wasn't that embarrassing when one considers the gas mileage we were getting, however we did need some petrol and pulled into one of the very modern service centers.

After filling tummies and tank, we headed north to Milano which we bypassed due to time constraints. Heading east from there, it wasn't long before the signs for Vanicia appeared. We had no idea what to expect other than Venice has canals with water instead of roads so we decided to stay at a small hotel in Mestre a part of the Venice area but still on the mainland.
We arrived tired so decided on a nap before going into Venice. It was almost evening and we decided to go into Venice anyway taking the local bus. Crossing a long causeway by road or train is the only way one can get into the ancient city for it is all built on islands.
Venice is everything one can imagine, yet nothing like what I expected. Once the New York of the Adriatic nearly one thousand years ago, it was the hub for all things exported and imported to and from Europe earning its wealth by taxing it all.

The bus left us in a small open area beside the multi story parking garage so we headed to the first thing that looked like a canal which had a pier with a small open waiting structure at the end. People were getting on a ferry type boat so we followed and sat down on the benches within. I had heard that the main area to see was called St.Marks Square so I asked the man beside us when to get off. Not speaking english, he gestured he understood and would let us know.

His tap on my shoulder indicated that our stop was next but thinking he meant now, we got off a stop too soon. The first thing we came to was a small bridge crossing a canal, where a wonderful voice singing something in Italian greeted us. Thinking it came from one of the many open windows we started to cross the bridge and noticed the singing getting louder. Out of the dark a Gondola passed quietly under the bridge, its two occupants barely visible from the single candle were being serenaded by a third man while the Gondolier expertly handled the long single oar. As mysteriously as it appeared, the voice disappeared again shrouded in darkness. So this was Venice and absolutely enchanting I must say !

The city is full of small alleyways and also split into various regions by a large network of small canals which in turn is split in half by the large "Grand Canal" meandering like a snake through the middle.
Due to this, it is hard to get one's bearing at the best of times but at night it is impossible. We strolled a few more alleyways and finally returned, making sure to get the last bus back to the mainland and our hotel before we really got lost.

The next morning during the bus ride back into Venice the whole picture of "Venicia" began to get much clearer. As we entered Venice over the causeway in daylight, one could better sense how the islands are laid out. The area that we were dropped of last evening, is as far as any motorized vehicle can travel, hence the multi level parking structure on the south side. What I didn't see last night was the ticket building near the Grand Canal were one buys maps and tickets for the water buses we rode, I guess for free last night. It turns out that many sneak on these boats for free anyway for rarely does any one check for tickets once on the boat.
The water buses or Vaporettos as they are called in Italian are more of an enclosed steel ferry type boat about 45 ft long with benches throughout. Like Buses, they are marked for the various locations and stops and run abut every 15 minutes. We got on one just past the ticket building and noticed a large covered train station across the other side of the canal, the trains are the most popular way for most to get to Venice.
As we headed for St Marks Square again the once magnificent city came into better focus. While still a must see, the weathered and partially crumbling buildings along the canal speak of Venice of another day. Originally built for protection from roaming warriors on small islands in the Lagoon it gradually grew and amalgamated into what one sees today.
Like any main thoroughfare, the canal is a hub of activity, everything from private water taxis, commercial deliver boats and of course the ever present Gondolas scurrying back and forth across the canal with no stoplight to control traffic.

Pizza St. Marco or Marks Square as it is commonly called, is the psychological heart of Venice featuring a perimeter of covered walkways, with restaurants, a huge clock tower, the amazing Basilica of St Mark which refused entry to my daughter because she was wearing shorts, and of course the Doge's Palace facing the canal. Getting there early is important if one wants to avoid the usual throng of tourists but nothing will help you avoid the hordes of pigeons or Gondoliers trying to entice you into a Gondola ride.
Sadly our time in Venice was limited as I needed to return to the art galley business but a solemn promise was made to return to this historical city ASAP.

Heading back to France, this time west with the wind blowing at us I managed to get the little Renault up to about 95km which caused some stern looks by those wishing to pass. At one point a motorcycle was almost toughing my back bumper before I could mover over. Commenting on the stupidity of tailgating my daughters suddenly yelled "Hey, he just gave us the finger ! Such is life in the fast lane LOL.

Late Sunday evening we finally pulled into our villa's driveway who's large iron gates are flanked by two equally large bones mad from plaster (I think) our host had apparently created as a statement to the arts (I think.)

Michael Swanson is a Canadian Artist who enjoys traveling to capture some of the world's great places. You can subscribe to these blogs at upper left of screen.